Total:2699 USD
Item:2699 USD Shipping:0 USD
FMUSER FU-1000C 1000W FM Transmitter + 2KW Dipole Antenna + 30M Coaxial Cable KIT
What are the characteristics of high quality kilowatt FM radio transmitter? Budget price? Famous brand? Or a CD-like auditory effect? If you need to buy a kilowatt-level transmitter that includes these characteristics, FMUSER hereby recommends this transmitter: FU-1000C 1000W FM radio broadcast transmitter.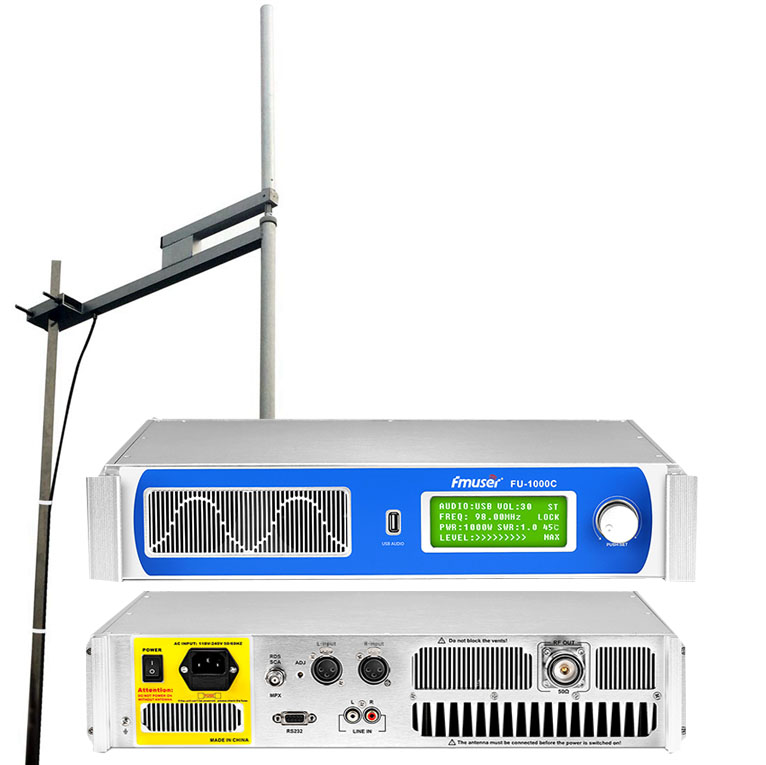 If you want to choose the best kilowatt-level FM broadcast transmitter, choose FU-1000C, you will add a powerful broadcast hardware device to your radio station at a reasonable price. This is also the first best choice for most medium-sized FM radio station operators. Imagine that if you live in coastal countries or regions (such as the Philippines, Indonesia, Thailand, Vietnam, etc.), you have to face unpredictable temperature and humidity, rainfall, sun exposure, and other uncontrollable factors. No matter how beautiful the transmitter is or how famous the brand is, just with only one factor, for example, over-humid air, can those expensive transmitters be destroyed. No matter this transmitter is imported from Italy or the United States, uncontrollable factors will greatly shorten the life expectancy of the transmitter. So, why not choose a more budget FM broadcast transmitter?
If you want to make a stable medium-range FM broadcast in the following scenarios, then Fu-1000C is definitely your helper! As the best-selling 1000W FM transmitter for radio broadcast, FU-1000C has been proven to be able to use in a variety of different scenarios, including the drive in Church, church parking lot, drive in church, and drive in movie, etc. If you are a radio manager who manage a small town with many drive-in churches and drive-in theaters, a reliable FU-1000C FM broadcast transmitter can help you better manage your broadcast affairs and create unlimited business opportunities for you and your town.
If you're already running a drive-in church or drive-in movie or you want to try a new drive-in service, a reliable FM radio transmitter is needed to accompany you around. Imagine how meaningful it is: to provide such warm, lively and safe family entertainment to countless families under the 2021 epidemic. "After the virus outbreak, my wife Sally and I spent many wonderful weekends in a car theater that is a mile away from home, and many other families were like us, hugging their families, watching movies on top of the car or inside the car. Can't wait to start another plan on the next coming weekend!" --- Aaron, Ilocos Sur, Candon, Philippines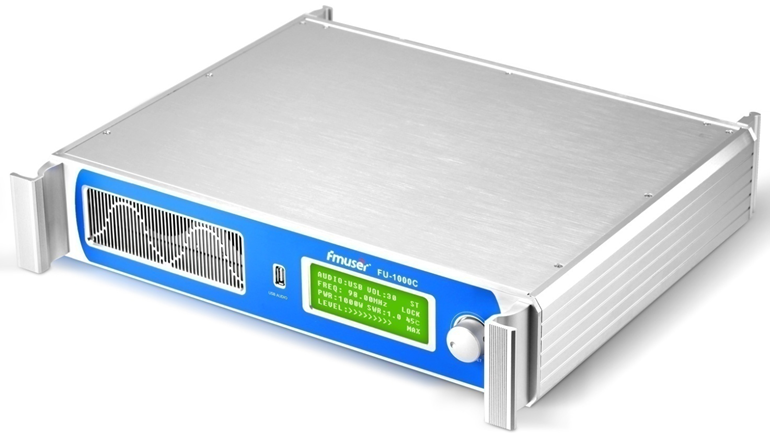 A good FM broadcast transmitter is not only with powerful performance, attractive appearance but more important is with a reasonable price. FU-1000C, a silver-black streamlined design compact FM transmitter, which combines those characteristics that the most common transmitters don't have, has been trusted by many FM radio station operators. FU-1000C is the best FM transmitter for the drive in church and drive in theater, reasonable price and excellent performance is the fundamental reason why they choose FU-1000C FM radio broadcast transmitter.
If you're looking for the best 1000W FM transmitter for radio broadcast, choose FU-1000C. If you're looking for the best 1000W FM transmitter for drive in movie, choose FU-1000C. If you're looking for the best 1000W FM transmitter for the church broadcast, choose FU-1000C. If you're looking for the best 1000W FM transmitter for church parking lot, choose FU-1000C, it's very simple to use, sometimes you just need to plug the USB with the MP3 file into the interface and connect it to the power supply. You don't need to spend extra time studying the user manual or pay much attention to the tedious manual operation, the transmitter can work safely and normally. You just need to focus on praying or playing the movie safely and the reliable FU-1000C will take care of the rest. FMUSER will also provide a simple installation operation video on YouTube to let you know more about FU-1000C in a very short time.
FU-1000C represents the real kilowatt high broadcasting quality of every medium-sized FM radio station in the world. Besides reasonable price and powerful performance, practicality is also one of the biggest characteristics of FU-1000C. With its amazing FM broadcasting quality, FU-1000C has successfully achieved high efficiency and popularity among broadcasting companies and is favored by professional/amateur FM radio lovers and many other FM broadcasting groups.
Some individuals will use it to launch a special radio wedding on an island. "I met my beloved Kathy, we decided to hold a wedding on a small island near the city, and because I was an RF Engineer and I decided to have an unforgettable radio wedding for her. To set up a perfect radio broadcast place, I built a medium-sized FM radio station to broadcast our wedding for those relatives and friends who couldn't be present, with a broadcast frequency of 87.7mhz. Listen to the clear and noise-free music coming out of the radio, with everyone's blessings, we embraced tightly"-- Ahmad, Jakarta, Indonesia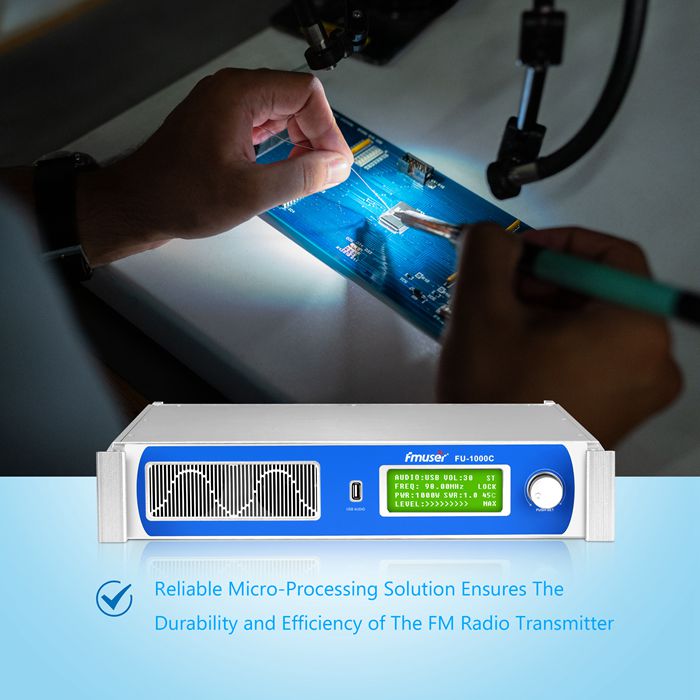 In a word, the FU-1000C FM radio broadcast transmitter of FMUSER is able to broadcast more than you can imagine.
Let's see why most people recommend this 1000W FM broadcast transmitter!
Have you ever been bothered by these problems before you buy a kilowatt-level FM broadcast transmitter:
l When purchasing a kilowatt-level FM stereo transmitter, what elements should you pay attention to?
l Why not choose a 1500W FM transmitter or a 3000W FM transmitter, but instead, choosing an FMUSER 1000W FM broadcast transmitter?
l Any information I can get about buying an FM radio broadcast transmitter? What should I know before starting a plan on purchasing an FM broadcast transmitter for radio broadcast?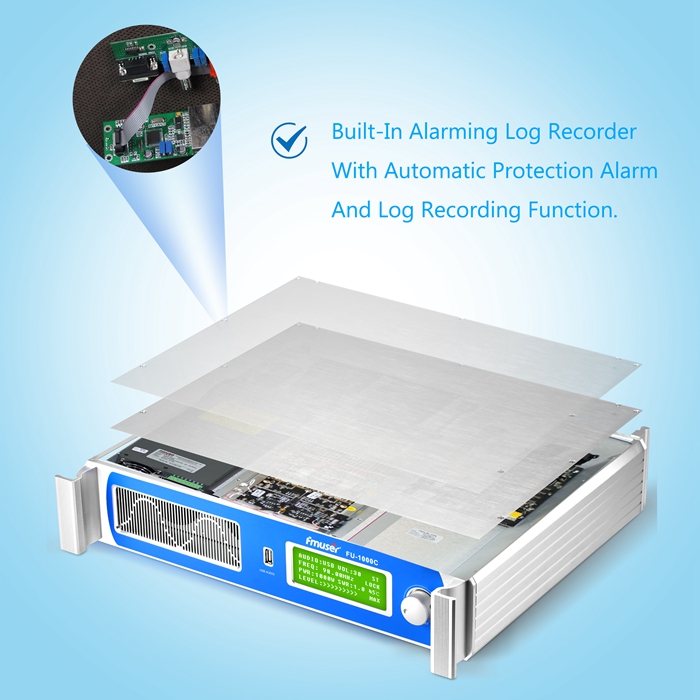 Most people will consider the brand first, followed by the price. In fact, in addition to the information mentioned above, some parameters of an FM broadcasting transmitter are also important reference conditions for purchase. FMUSER hereby takes FU-1000C as an example in the following content to introduce several important parameters you should consider before purchasing a stereo FM transmitter.
First, you should consider the distortion of the FM broadcast transmitter.
As you know, not every signal you input to the stereo FM transmitter can be completely transmitted from the same position, signal distortion is inevitable. The amplifier of some FM audio transmitters has a signal amplification function, which will also cause distortion of the audio signal. The RF engineers of FMSUER show us some amazing data: the FU-1000C FM audio transmitter's distortion test results were less than 30 Hz - 15000 Hz 0.02%, far below 0.02% of the public broadcast FM transmitter! This is a blessing for those who pursue perfect audio quality from FM radio transmitters!
This is a recognized common sense: the stereo separation could be a great affecting factor to the stereo sense.
The more blurred the stereo separation, the weaker the stereo sense. Do you know the stereo separation value that most FM radio broadcast transmitters can achieve? Yes, greater than or equal to 40 dB at 500 Hz, this index is also stipulated by the International Electrotechnical Commission. But, luckily, the FU-1000C stereo FM transmitter of FMUSER can achieve more than 60 dB! Still sounds like the best choice for your radio station, right? Let's create a greater stereo sound receiving experience for your radio station followers!
How to keep the existing radio station audience and attract a more new audience is the eternal discussing topic for the radio station operators. But it is certain that no one is willing to listen to the radio program full of noise. So the question is, how can you completely transmit the high fidelity radio signal to the audience? Don't worry, FU-1000C can perfectly solve this problem. As an FM stereo transmitter with a high signal-to-noise ratio (≥ 70dB), just add an FU-1000C FM radio transmitter to your radio station, you won't have to worry about all kinds of annoying broadcast noise anymore!
Of course, you can use the accurate data obtained by the FMUSER test team after testing the FU-1000C radio FM transmitter as a reference to choose other FM stereo transmitters, but FMUSER sincerely hopes that you can benefit from your choice. If you think the above information is not complete enough and want to get more information about FMUSER FU-1000C high power FM transmitter, please continue to read!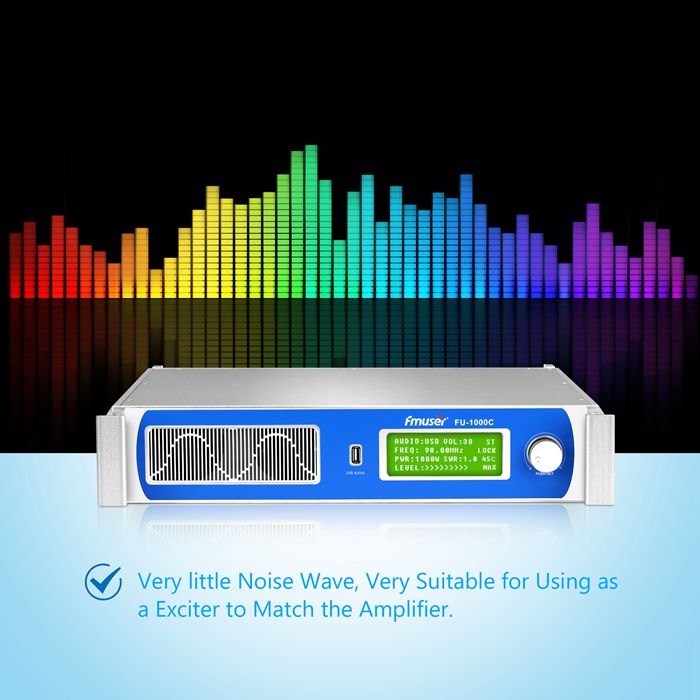 Overview:
Why Most Broadcasters Choose FU-1000C FM radio station transmitter?
Please note that the value of the FU-1000C FM audio transmitter is much more than the above parameters. The FU-1000C broadcast FM transmitter is a 1000W FM transmitter equipped with a USB interface. But its professional FM broadcast capability can make you so blown away by the broadcast efficiency of it.
The embedded USB interface truly realizes the function of human-transmitter interaction, just with a few steps in a few minutes: take out your USB, plug it into the transmitter, use the jog dial, and the only thing left is to play the music! Quite easy, right? That's true, with this 1000 W FM broadcast transmitter, you can have the high-quality customized audio enjoyment brought by FMUSER FU-1000C
FU-1000C is the 1000W broadcast FM transmitter equipped with an RDS input interface, which allows you to explore more of your broadcast density (RCA input is also supported). You can communicate with your audience with information in words in addition to audio signals so that your audience can get more information about your radio broadcast!
FU-1000C 1000W FM transmitter is equipped with front jog dial input, which is committed to designing for an excellent user experience. Though this broadcast equipment is complicated in matters of operation and structure, it is such a gospel for someone, especially for the users who have strong antipathy towards those hard-to-use broadcast equipment, the jog dial still makes the equipment operation become more convenient.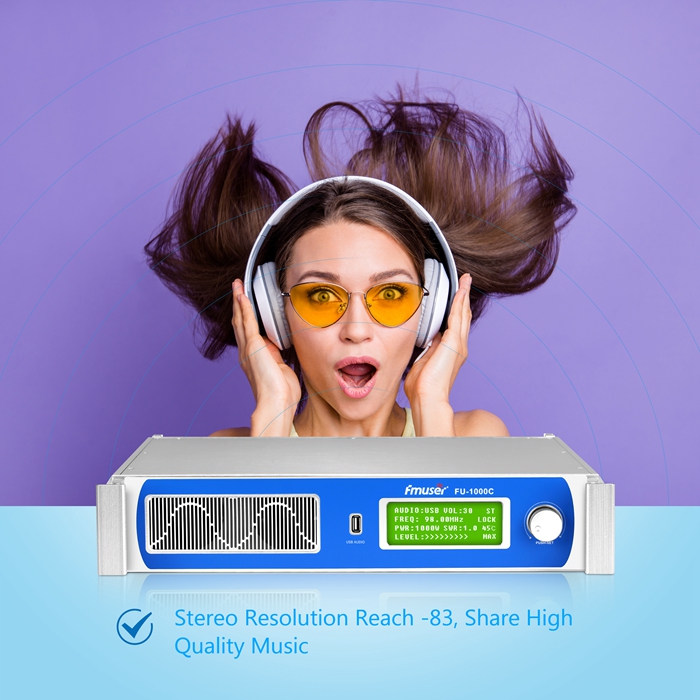 In terms of protection, the FU-1000C FM stereo broadcast transmitter can efficiently avoid being affected by external and internal issues, for example, in the aspect of over-heated temperature, here is what traditional FM broadcast transmitter will be: the working temperature gets higher and higher and won't stop until the transmitter burns down.
Instead, the FU-1000C FM radio transmitter will automatically become self-protected in the over-heated temperature, and additionally, its self-protection is still on when the standing wave ratio gets higher due to the mismatched connections of the FM broadcast antennas. So choose FU-1000C for your radio station means saving your time cost and improving work efficiency. The FU-1000C FM stereo broadcast transmitter has the characteristics of durability and practicality, which can effectively extend the actual service life of your radio station and can help you build a comprehensive radio signal coverage network in a large area.
What? The information above is not enough? Let's take a look at the technical parameters of the FU-1000C FM transmitter for radio broadcasts observed by our engineers!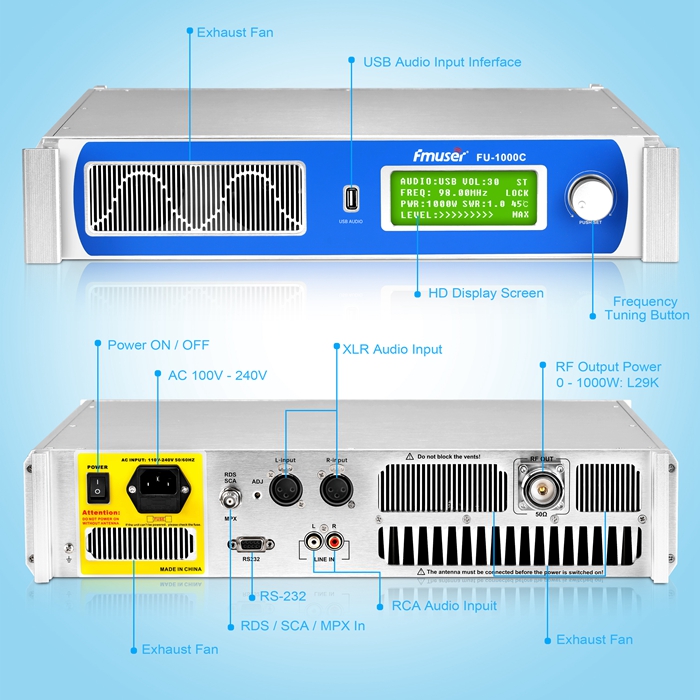 Advantages:
The product technology has the following technical characteristics:
All-in-one rack type design comes with excellent broadcast experience as well as "dead-easy" operation, this 1000W FM radio transmitter is one of the best choices of low-power medium-sized FM broadcast radio station.
The practical USB audio input interface can help you quickly import and automatically identify MP3 audio signals of all kinds of custom content, you can always switch any of different audio content at any time
The arbitrarily switched single/stereo audio mode is optional for you to meed your special audio playback need
SCA / RDS subcarrier input is supported for the combining use of text broadcast signal and the audio broadcast signal, which enhances the human-machine-human interaction and expands the diversity of traditional broadcast
XLR / RCA / USB stereo audio signal inputs are supported to arbitrarily adjust the size of the audio gain function, which makes the radio broadcast much more joyful
The transmitter power can be tuned up to 1000W and a one-button on/off function is supported
The innovative standing wave ratio protection ensures that the problem caused by the abnormal SWR does not affect the transmitter operation, if there is no antenna to connect to the transmitter, or when the antenna is mismatching to the transmitter, the function will be automatically started and protect the transmitter.
The transmitter is equipped with complete accessory protection. When the fuselage temperature is too high, the transmitter will automatically enter the protection state, which can effectively avoid a series of serious impacts from the internal temperature of the transmitter.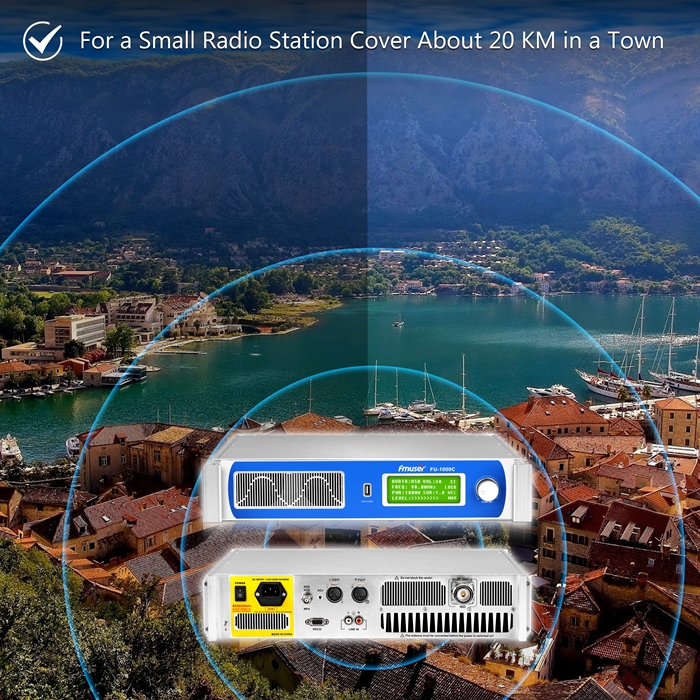 The reliable micro-processing solution ensures the durability and efficiency of the FM radio transmitter
The practical RS232 remote communication control interface can connect to the computer for remote controlling so that you can implement instant operation without face-to-face operating the transmitter
The advanced transmitter signal transmission control technology has truly achieved the industry-leading ultra-low-emission power and frequency deviation standard
The standard 153 x 50 mm OLED screen is adopted so as to offer a smoother, clearer real-time data display
The jog dial can simplify the operation and effectively improve your operational efficiency, which can greatly reduce time costs
The built-in menu password protection technology can avoid mistouch and protect your high confidential file content
The antenna full band standing wave ratio scanning is supported to automatically detect the most suitable frequency range for your antenna.
Built-in alarming log recorder with automatic protection alarm and log recording function is ready to use.
Real-time data monitoring technology provides you with complete main screen audio signal monitoring
The 19-inch standard chassis with a height of 2U can totally meet your needs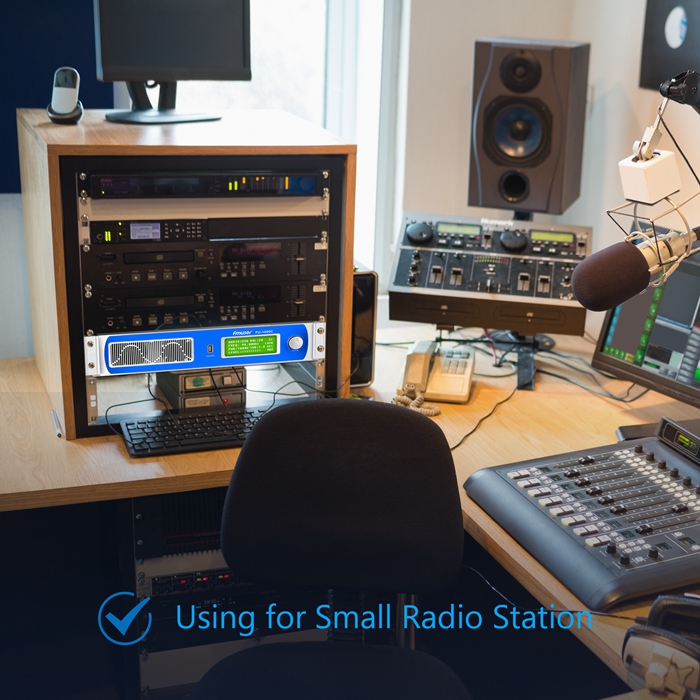 Specifications:
Electrical Index
l Modulation: Frequency Modulation
l Frequency Stabilization Method: PLL Phase-locked loop
l Nominal Transmission Frequency: 87 MHz - 108 MHz (other frequencies can be customized)
l Frequency Deviation ± 75 Hz
l The Frequency Step Value: 50 KHz
l The Output Impedance: 50 Ω
l RF Output Connector: L29-K or other specified connector
l The power-on power of the transmitter is fixed at 1000W and cannot be adjusted.
l The Output Power Deviation: ± 10 W
l RF efficiency: > 75%
l Pilot Frequency Deviation: ± 0.1 Hz
l Harmonic Radiation Suppression: < -70 db
l Internal Residual Wave Radiation: < -70 dB
l High-Temporal Harmonic Radiation: < -65 db
l Parasitic Modulation Noise: < -50 db
Audio Index
l Audio Input Interface: XLR / USB / RCA
l Audio Input Level: < 15 dBV
l Sign Noise Ratio: ≥ 70 dB (1 KHz, 100% modulation)
l Stereo Separation: ≥ 60 db (L → R, R → L)
l Distortion: ≤ 0.02% (30 Hz - 15000 Hz, 100% modulation)
l Frequency Response: 50 - 15000 Hz
l Audio Preload: 0 μs / 50 μs / 75 μs optional
l Left And Right Channel Level Difference: ≤0.05 dB (100% modulation)
Physical Index
l Chassis Size : 2U (length 530 mm × width 340 mm × height 100 mm)
l Chassis Size: 2U (length 20.8 inch × width 13.3 inch × height 4 inch)
l Machine Weight: 10 kg
l Machine Weight: 22 lbs
l Heat Dissipation Mode: Air-cooling
l Chassis Standard: 19 inches
Other Index
l External Control Interface: RS232
l The Protection Mode: high temperature and high VSWR protection supported
Working Environment
l Relative Humidity: < 95%
l Altitude Height: < 4500 M
l Power Supply Voltage: 100 VAC - 240 VAC / 50 Hz
l Run Ambient Temperature: -10 ° C - + 45 ° C
l Maximum Power Consumption: 1500 W
2KW FMUSER Dipole Antenna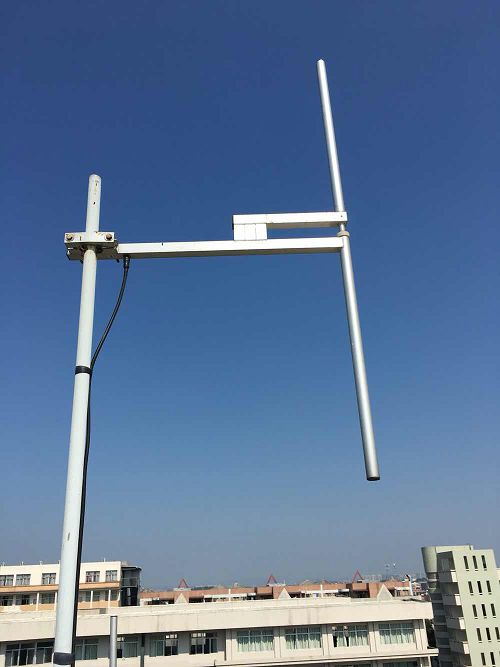 Technical Specification:
* Band II Dipole
* Broadband from 87.5-108mhz
* 2dBd Gain
* Vertical Polarization
* Omni Directional Pattern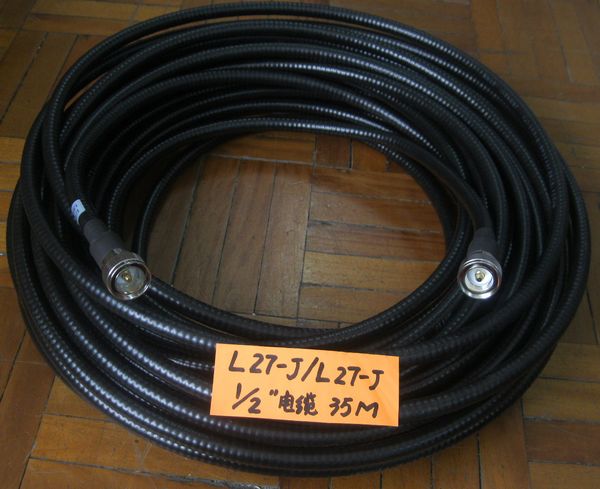 PACKAGE DETAILS:

1 X 1KW FM Transmitter with USB audio input interface
1 X 2KW FU-DV2 Dipole Antenna

1 X 30meters 1/2" Coaxial Cable With Connectors

Total:2699 USD
Item:2699 USD Shipping:0 USD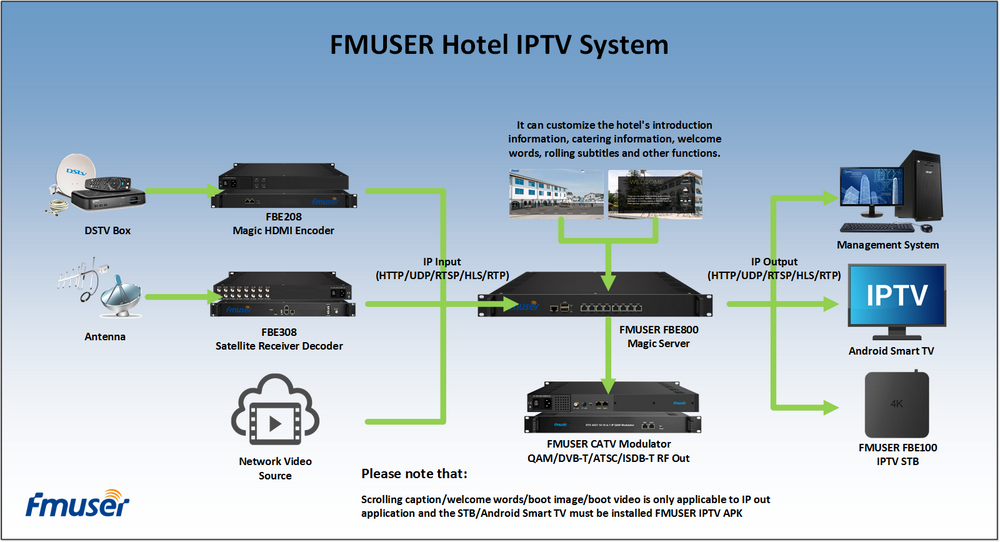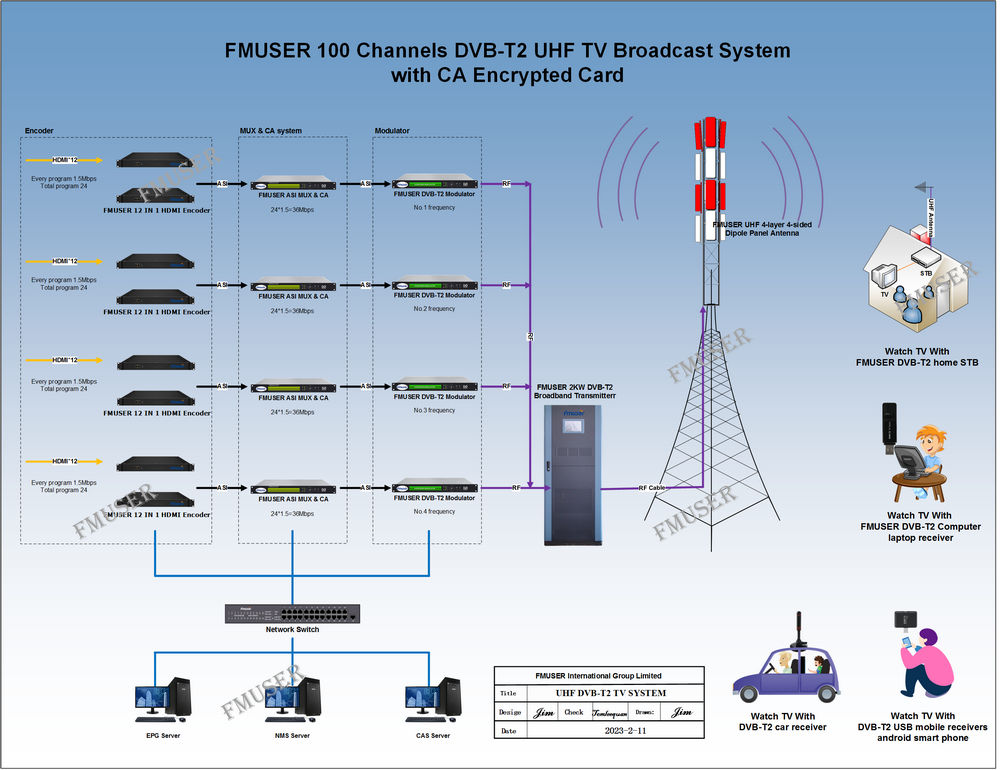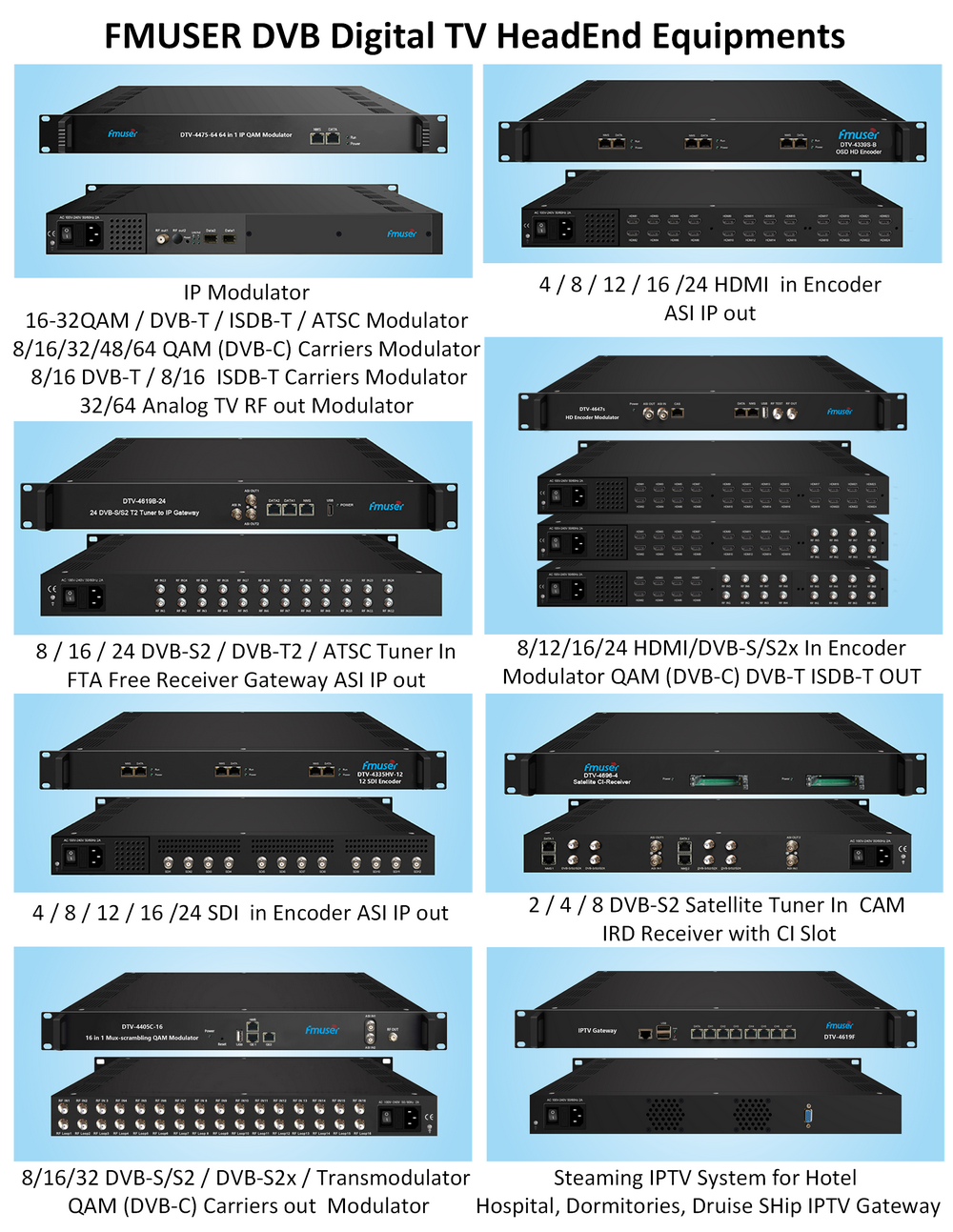 How far(long) the transmitter cover?
The transmission range depends on many factors. The true distance is based on the antenna installing height , antenna gain, using environment like building and other obstructions , sensitivity of the receiver, antenna of the receiver . Installing antenna more high and using in the countryside , the distance will much more far.
EXAMPLE 5W FM Transmitter use in the city and hometown:
I have a USA customer use 5W fm transmitter with GP antenna in his hometown ,and he test it with a car, it cover 10km(6.21mile).
I test the 5W fm transmitter with GP antenna in my hometown ,it cover about 2km(1.24mile).
I test the 5W fm transmitter with GP antenna in Guangzhou city ,it cover about only 300meter(984ft).
Below are the approximate range of different power FM Transmitters. ( The range is diameter )
0.1W ~ 5W FM Transmitter :100M ~1KM
5W ~15W FM Ttransmitter : 1KM ~ 3KM
15W ~ 80W FM Transmitter : 3KM ~10KM
80W ~500W FM Transmitter : 10KM ~30KM
500W ~1000W FM Transmitter : 30KM ~ 50KM
1KW ~ 2KW FM Transmitter : 50KM ~100KM
2KW ~5KW FM Transmitter : 100KM ~150KM
5KW ~10KW FM Transmitter : 150KM ~200KM
How to contact us for the transmitter?
Call me +8618078869184 OR
Email me [email protected]
1.How far you want to cover in diameter ?
2.How tall of you tower ?
3.Where are you from ?
And we will give you more professional advice.

About Us
FMUSER.ORG is a system integration company focusing on RF wireless transmission / studio video audio equipment / streaming and data processing .We are providing everything from advice and consultancy through rack integration to installation, commissioning and training.

We offer FM Transmitter, Analog TV Transmitter, Digital TV transmitter, VHF UHF Transmitter, Antennas, Coaxial Cable Connectors, STL, On Air Processing, Broadcast Products for the Studio, RF Signal Monitoring, RDS Encoders, Audio Processors and Remote Site Control Units, IPTV Products, Video / Audio Encoder / Decoder, designed to meet the needs of both large international broadcast networks and small private stations alike.

Our solution has FM Radio Station / Analog TV Station / Digital TV Station / Audio Video Studio Equipment / Studio Transmitter Link / Transmitter Telemetry System / Hotel TV System / IPTV Live Broadcasting / Streaming Live Broadcast / Video Conference / CATV Broadcasting system.

We are using advanced technology products for all the systems, because we know the high reliability and high performance are so important for the system and solution . At the same time we also have to make sure our products system with a very reasonable price.

We have customers of public and commercial broadcasters, telecom operators and regulation authorities , and we also offer solution and products to many hundreds of smaller, local and community broadcasters .

FMUSER.ORG has been exporting more than 15 years and have clients all over the world. With 13 years experience in this field ,we have a professional team to solve customer's all kinds of problems. We dedicated in supplying the extremely reasonable pricing of professional products & services. Contact email : [email protected]
Our Factory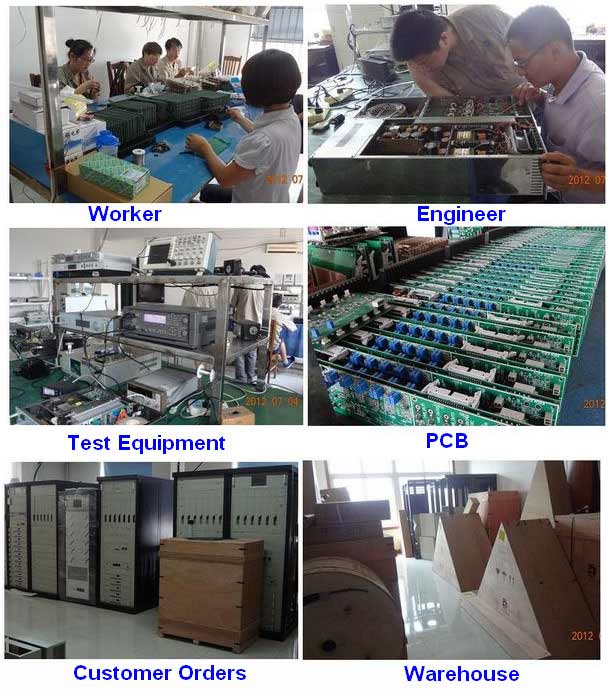 We have modernization of the factory . You are welcome to visit our factory when you come to China.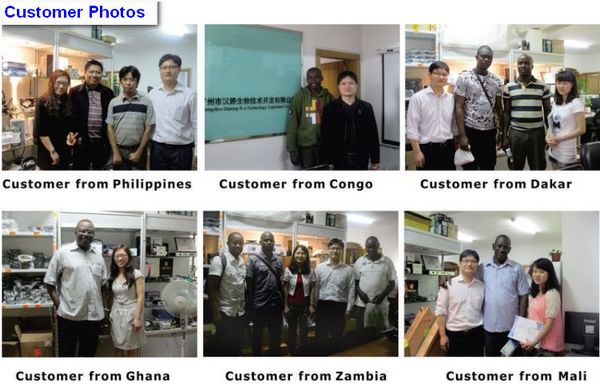 At present , there are already 1095 customers around the world visited our Guangzhou Tianhe office . If you come to China , you are welcome to visit us .
At Fair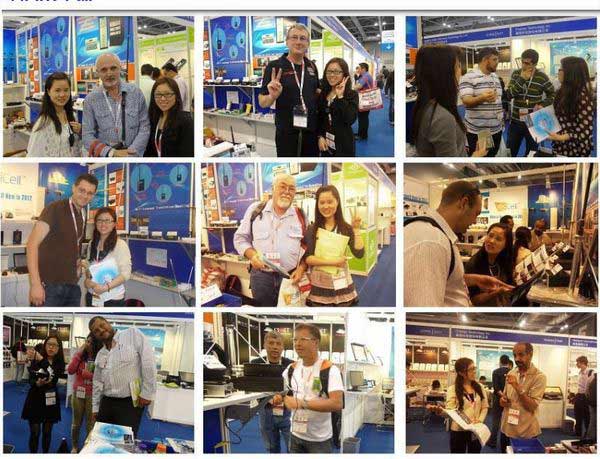 This is our participation in 2012 Global Sources Hong Kong Electronics Fair . Customers from all over the world finally have a chance to get together.
Where is Fmuser ?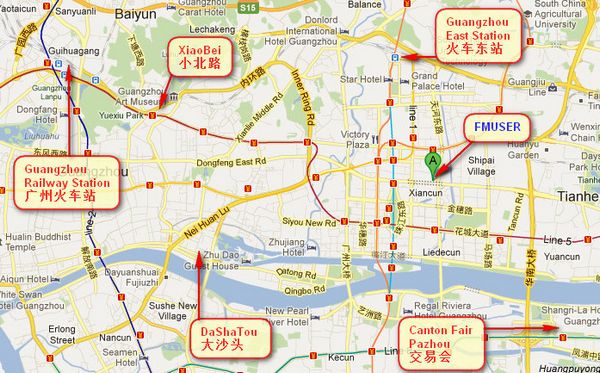 You can search this numbers " 23.127460034623816,113.33224654197693 " in google map , then you can find our fmuser office .
FMUSER Guangzhou office is in Tianhe District which is the center of the Canton . Very near to the Canton Fair , guangzhou railway station, xiaobei road and dashatou , only need 10 minutes if take TAXI . Welcome friends around the world to visit and negotiate .
Contact: Sky Blue
Cellphone: +8618078869184
WhatsApp: +8618078869184
Wechat: +8618078869184
E-mail: [email protected]
QQ: 727926717
Skype: sky198710021
Address: No.305 Room HuiLan Building No.273 Huanpu Road Guangzhou China Zip:510620

English: We accept all payments , such as PayPal, Credit Card, Western Union, Alipay, Money Bookers, T/T, LC, DP, DA, OA, Payoneer, If you have any question , please contact me [email protected] or WhatsApp +8618078869184
PayPal. www.paypal.com

We recommend you use Paypal to buy our items ,The Paypal is a secure way to buy on internet .

Every of our item list page bottom on top have a paypal logo to pay.

Credit Card.If you do not have paypal,but you have credit card,you also can click the Yellow PayPal button to pay with your credit card.

---------------------------------------------------------------------

But if you have not a credit card and not have a paypal account or difficult to got a paypal accout ,You can use the following:

Western Union.

www.westernunion.com

Pay by Western Union to me :

First name/Given name: Yingfeng
Last name/Surname/ Family name: Zhang
Full name: Yingfeng Zhang
Country: China
City: Guangzhou



---------------------------------------------------------------------

T/T .

Pay by

T/T (wire transfer/ Telegraphic Transfer/ Bank Transfer)

First BANK INFORMATION (COMPANY ACCOUNT):

SWIFT BIC: BKCHHKHHXXX
Bank name: BANK OF CHINA (HONG KONG) LIMITED, HONG KONG
Bank Address: BANK OF CHINA TOWER, 1 GARDEN ROAD, CENTRAL, HONG KONG
BANK CODE: 012
Account Name : FMUSER INTERNATIONAL GROUP LIMITED
Account NO. : 012-676-2-007855-0

---------------------------------------------------------------------
Second BANK INFORMATION (COMPANY ACCOUNT):
Beneficiary: Fmuser International Group Inc
Account Number: 44050158090900000337
Beneficiary's Bank: China Construction Bank Guangdong Branch
SWIFT Code: PCBCCNBJGDX
Address: NO.553 Tianhe Road, Guangzhou, Guangdong,Tianhe District, China
**Note: When you transfer money to our bank account, please DO NOT write anything in the remark area, otherwise we won't be able to receive the payment due to government policy on international trade business.

* It will be sent in 1-2 working days when payment clear.
* We will send it to your paypal address. If you want to change address, please send your correct address and phone number to my email [email protected]
* If the packages is below 2kg,we will be shipped via post airmail, it will take about 15-25days to your hand.
If the package is more than 2kg,we will ship via EMS , DHL , UPS, Fedex fast express delivery,it will take about 7~15days to your hand.
If the package more than 100kg , we will send via DHL or air freight. It will take about 3~7days to your hand.
All the packages are form China guangzhou.
* Package will be sent as a "gift" and declear as less as possible,buyer don't need to pay for "TAX".
* After ship, we will send you an E-mail and give you the tracking number.

For Warranty .
Contact US--->>Return the item to us--->>Receive and send another replace .
Name: Liu xiaoxia
Address: 305Fang HuiLanGe HuangPuDaDaoXi 273Hao TianHeQu Guangzhou China.
ZIP:510620
Phone: +8618078869184
Please return to this address and write your paypal address,name,problem on note: