FMUSER RDS-C RDS Encoder for FM Transmitter with MPX SCA Input
Total:1690 USD
Item:1690 USD Shipping:0 USD
FMUSER RDS-C RDS Encoder for FM Transmitter with MPX SCA
Overview
The FMUSER RDS-C Encoder offers the most popular RDS functions at an exceptional Price/Quality ratio. Delivered with a quick-start and a connection diagram, the RDS-C Encoder is easy to install and has a user-friendly interface (useable by non technical staff).
The radio data system not only gives your listeners an interactive and informative addition to your stations audio content, it also opens up revenue generation possibilities.
Whether you wish to display your station's name on your listeners radios, stream out artist and title data or use the RDS data channel for your own in house data applications you'll be able to do it with a FMUSER RDS-C encoder.
Features
--The RDS encoders can work alone
--Direct digital RDS signal synthesis
--Effective design based on high-performance single microcomputer, low power consumption
--Compatible essentially with all FM broadcast transmitters
--Setup is provided easily by a PC computer; "Now Playing" features,Presets, Task Scheduler, Settings lock
--Powerful control software with advanced facilities, free download, on-line documentation
--RDS services supported: PI, PS, PTY, PTYN, TP, AF, TA, DI, M/S, PIN, ECC, LIC, RT, TDC, IH, ODA, CT, EON, RT+
--Easy RDS settings wizard, including automatic PI calculation
--Complete solution for your radio station: RDS Scheduling, External text sources,
--Up to 16 dynamic external text sources
--Powerful text processing tools
--External text source can control any RDS service (for example TA and PTY)
--Software OS supported: Windows 9x, ME, NT, 2000, XP, Vista, win7, win8
Technical Specifications

| | |
| --- | --- |
| RDS Signal | Compliant with the EBU document tech 3244 (3/1984) and suppl. nr. 1 (3/1987), and CENELEC EN 50067 |
| RDS Services directly supported | PI, PS, PTY, TP, AF, TA, DI, M/S, PIN, RT, RT+TMC, EON, PTYN,ECC, LIC, TDC, IH, CT, ODA |
| RDS signal subcarrier frequency | 57kHz |
| Sampling rate | 361kHz |
| Bandwidth | ± 2.4kHz (50dBc) |
| Recommended FM deviation | 6.8kHz |
| Pilot PLL 57÷19KHz capture range | 8Hz |
| Stereo pilot frequency required | 19000Hz ± 2Hz |
| Pilot tone level | min. 120mVpp (-26dBu) |
| Phase shift adjust MPX transmission | Full range, in 9.5 deg. Steps |
| Output level adjust default | 0 - 1.4Vpp |
| Output impedance | < 30Ohm |
| Audio/MPX/Pilot input | < 10KOhm |
| Pass-through voltage gain | 2Hz - 100kHz (0,01dB) |
| Signal connectors | unbalanced BNC-female |
| Data connector | RS-232 (DTE, 9 pins), bi-directional |
| Communication speed | software selectable 1200, 2400, 4800, 9600, 19200bps |
| Communication mode | 1 stop bit, 8 data bits, no parity, ASCII or UECP |
| TA switching | by software or external switch |
| Program switching | by software or external switch |
| Expansion bus type | IIC, 400kHz |
| Mains | 110-220Vac ±15% 50÷60Hz |
| Power consumption | 20VA |
| Temp. operation | 0°C ÷ +40°C |
| Relative air humidity | 90% non condensing |
| Dimensions: | 19", 1U, 320mm depth |
Appearance and Illustration
Front Panel Illustration:
1. Poewr LED
2. TA LED
3. Pilot tone indication / Firmware update
4. Operation / Receive data / Error
5. External TA/EON1TA switch
6. Screen display
7. RS-232 Interface
9pin D-SUB male (DTE) connector:
1: Not used / +5 V
2: Receive Data (RDS encoder)
3: Transmit Data (RDS encoder)
4: Connected to pin 6
5: Ground
6: Connected to pin 4
7: Connected to pin 8
8: Connected to pin 7
1. AC 110V-230V Power Input
2. FUSE
3. Power Switch
4. RDS OUT
5. MPX+RDS OUT
6. Pilot or MPX Input

Windows RDS control software System
The software can run in demo mode without the RDS encoder connected.
agic RDS 3 - default Windows control software
Download the Software here:
http://a.fmuser.com/upLoad/product/month_1507/20150702112154software-of-FMUSER-RDS-C-encoder.rar
Note: The RDS encoder contains two types of memory. These are marked as RAM and EEPROM. Like any other computing system the RAM holds all operational data which are also used for transmission whilst the EEPROM is used for the data storage during power-off. By default the button Send will fill the RAM only. The button Store will fill the RAM and also stores the data into EEPROM. The Store button behavior can be changed in Options - Preferences - Buttons.
If the user forgets to store the data into EEPROM, the settings will be lost when the power is disconnected.
FM Transmitter Connection
Basic rules:
The RDS signal must be fed into modulation signal (added to MPX signal if stereo encoder is used).
If stereo encoder is used, one of its outputs (MPX or pilot tone) must be fed into the RDS encoder input to meet the synchronization requirement.
Following figures show various situations and corresponding methods of connection:
Separate stereo encoder - default connection.
FM transmitter with only one MPX input provided.
Both stereo encoder and FM transmitter with only one MPX connector provided - loopthrough mode. It is recommended not to use this mode if any of the other connections are possible.
FM transmitter with integrated stereo encoder.
FM transmitter with integrated stereo encoder, Only have a AUX in / RDS in / SCA in .
In case of mono transmission (no stereo encoder used) the RDS encoder input may be left unconnected (since there is no need of external synchronization) or it may be used for the audio signal injection in the case that the FM transmitter has only one input connector.
Packing List
1pcs FMUSER RDS-C Encoder
1pcs User's manual
1pcs BNC cable
1pcs RS-232 cable
1pcs Power Cable
download software for RDS-C Encoder Click Here
http://a.fmuser.com/upLoad/product/month_1507/20150702112154software-of-FMUSER-RDS-C-encoder.rar
Total:1690 USD
Item:1690 USD Shipping:0 USD

How far(long) the transmitter cover?
The transmission range depends on many factors. The true distance is based on the antenna installing height , antenna gain, using environment like building and other obstructions , sensitivity of the receiver, antenna of the receiver . Installing antenna more high and using in the countryside , the distance will much more far.
EXAMPLE 5W FM Transmitter use in the city and hometown:
I have a USA customer use 5W fm transmitter with GP antenna in his hometown ,and he test it with a car, it cover 10km(6.21mile).
I test the 5W fm transmitter with GP antenna in my hometown ,it cover about 2km(1.24mile).
I test the 5W fm transmitter with GP antenna in Guangzhou city ,it cover about only 300meter(984ft).
Below are the approximate range of different power FM Transmitters. ( The range is diameter )
0.1W ~ 5W FM Transmitter :100M ~1KM
5W ~15W FM Ttransmitter : 1KM ~ 3KM
15W ~ 80W FM Transmitter : 3KM ~10KM
80W ~500W FM Transmitter : 10KM ~30KM
500W ~1000W FM Transmitter : 30KM ~ 50KM
1KW ~ 2KW FM Transmitter : 50KM ~100KM
2KW ~5KW FM Transmitter : 100KM ~150KM
5KW ~10KW FM Transmitter : 150KM ~200KM
How to contact us for the transmitter?
Call me +8615915959450 OR
Email me sky@fmuser.org
1.How far you want to cover in diameter ?
2.How tall of you tower ?
3.Where are you from ?
And we will give you more professional advice.

About Us
We specialized in production and sales of FM / TV Transmitter , FM / TV antenna , the FM / TV transmitter accessories. We have been exporting FM /TV transmitter for 9 years. We have clients all over the world, not only the resellers but also the consumers. With 9 years experience in this field ,we have professional team and excellent aftersales service. We dedicated in supplying the best quality products with competive prices and excellent customer sevice! If you have any question about it , No matter you buy or not, please feel free to tell us your questions,we are very willing to help you and solve your problems. Contact email : sky@fmuser.org
Our Factory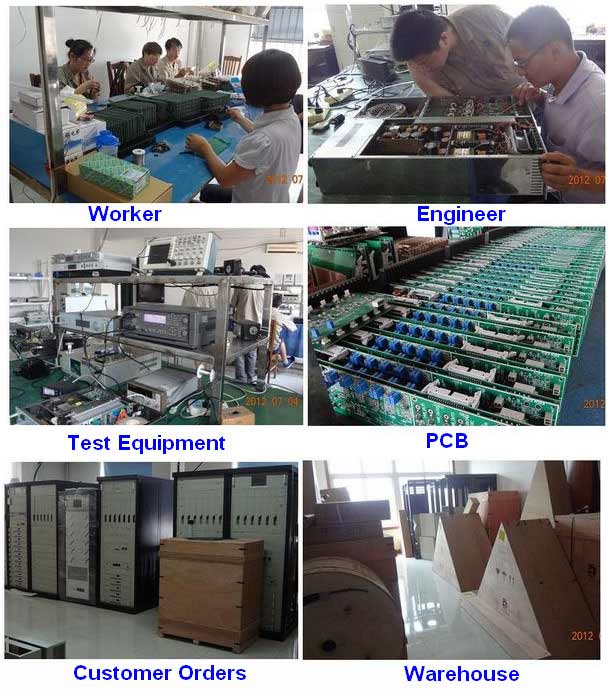 We have modernization of the factory . You are welcome to visit our factory when you come to China.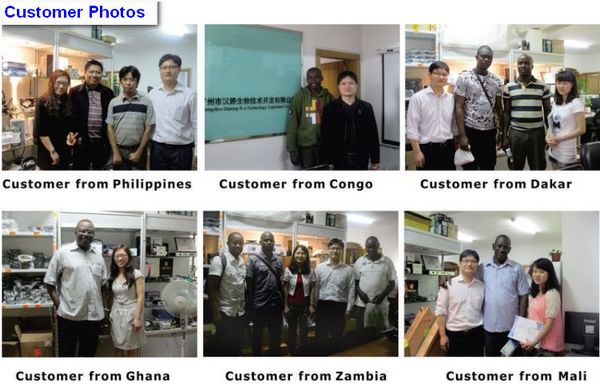 At present , there are already 1095 customers around the world visited our Guangzhou Tianhe office . If you come to China , you are welcome to visit us .
At Fair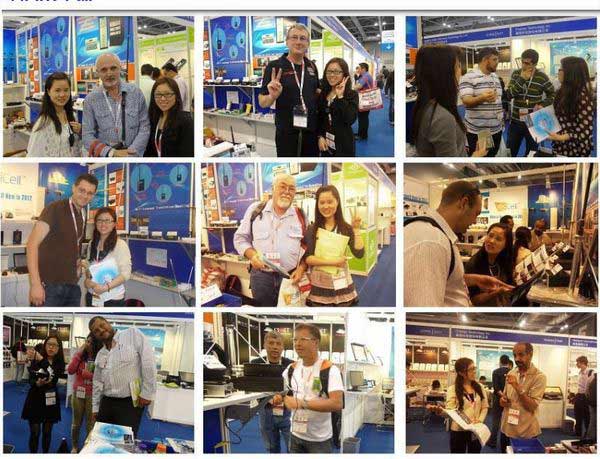 This is our participation in 2012 Global Sources Hong Kong Electronics Fair . Customers from all over the world finally have a chance to get together.
Where is Fmuser ?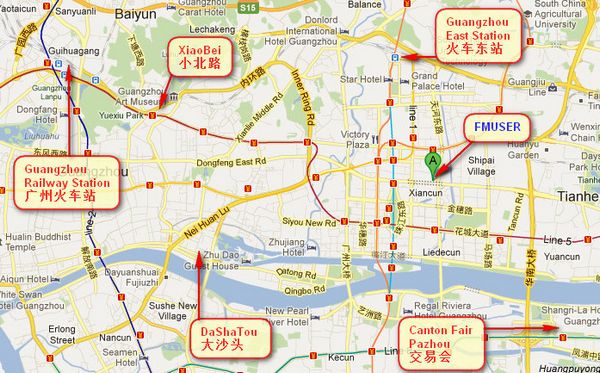 You can search this numbers " 23.127460034623816,113.33224654197693 " in google map , then you can find our fmuser office .
FMUSER Guangzhou office is in Tianhe District which is the center of the Canton . Very near to the Canton Fair , guangzhou railway station, xiaobei road and dashatou , only need 10 minutes if take TAXI . Welcome friends around the world to visit and negotiate .
Contact: Sky Blue
Cellphone: +8615915959450
WhatsApp: +8615915959450
Wechat: +8615915959450
E-mail: sky@fmuser.org
QQ: 727926717
Skype: sky198710021
Address: No.305 Room HuiLan Building No.273 Huanpu Road Guangzhou China Zip:510620

English: PayPal, Credit Card, Western Union, Money Gram, Alipay,Money Bookers and T/T .
PayPal. www.paypal.com

We recommend you use Paypal to buy our items ,The Paypal is a secure way to buy on internet .

Every of our item list page bottom on top have a paypal logo to pay.

Credit Card.If you do not have paypal,but you have credit card,you also can click the Yellow PayPal button to pay with your credit card.

---------------------------------------------------------------------

But if you have not a credit card and not have a paypal account or difficult to got a paypal accout ,You can use the following:

Money Gram. www.moneygram.com

Pay by Money Gram to me :

First name/Given name: Yingfeng
Last name/Surname/ Family name: Zhang
Full name: Yingfeng Zhang
Country: China
City: Guangzhou


---------------------------------------------------------------------
Western Union. www.westernunion.com

Pay by Western Union to me :

First name/Given name: Yingfeng
Last name/Surname/ Family name: Zhang
Full name: Yingfeng Zhang
Country: China
City: Guangzhou



---------------------------------------------------------------------

T/T .

Pay by

T/T (wire transfer/ Telegraphic Transfer/ Bank Transfer)

SWIFT BIC: BKCHHKHHXXX
Bank name: BANK OF CHINA (HONG KONG) LIMITED, HONG KONG
Bank Address: BANK OF CHINA TOWER, 1 GARDEN ROAD, CENTRAL, HONG KONG
BANK CODE: 012
Account Name : FMUSER INTERNATIONAL GROUP LIMITED
Account NO. : 012-676-2-007855-0

* It will be sent in 1-2 working days when payment clear.
* We will send it to your paypal address. If you want to change address, please send your correct address and phone number to my email sky@fmuser.org
* If the packages is below 2kg,we will be shipped via post airmail, it will take about 15-25days to your hand.
If the package is more than 2kg,we will ship via EMS , DHL , UPS, Fedex fast express delivery,it will take about 7~15days to your hand.
If the package more than 100kg , we will send via DHL or air freight. It will take about 3~7days to your hand.
All the packages are form China guangzhou.
* Package will be sent as a "gift" and declear as less as possible,buyer don't need to pay for "TAX".
* After ship, we will send you an E-mail and give you the tracking number.

For Warranty .
Contact US--->>Return the item to us--->>Receive and send another replace .
Name: Liu xiaoxia
Address: 305Fang HuiLanGe HuangPuDaDaoXi 273Hao TianHeQu Guangzhou China.
ZIP:510620
Phone: +8615915959450
Please return to this address and write your paypal address,name,problem on note: